Black Imp (Diable Noir) 1905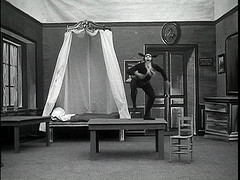 Starring: Georges Méliès
Director: Georges Méliès
Writer: Georges Méliès
Produced by Georges Méliès
Release Date: 1905 (France)
Timing: 4:02
Genre: Fantasy
Synopsis: A devilish imp, desirous shut-eye, plays tricks on a hotel guest to scare him away. Great dancing by the imp and impressive special effects by Méliès.
Music by Maurice Saylor
Number of players: 4
Scoring: Eb clarinet, bass clarinet, 2 melodicas, percussion, piano and toy piano.
Commenting is closed for this article.