Fiddlesticks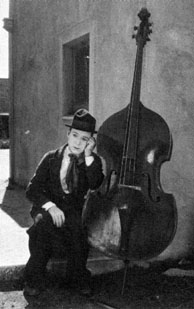 Starring: Harry Langdon
Director: Harry Edwards
Writers: Frank Capra and Arthur Ripley
Produced by Mack Sennett
Release Date: 27 November 1927 (USA)
Timing: 19:55
Genre: Comedy
Synopsis: Harry will do anything to be a musician, but it takes a junk collector to discover his hidden talents.
Music by Maurice Saylor
Number of players: 5
Scoring: Eb clarinet, Bb clarinet, bass clarinet, contra-alto clarinet, soprano saxophone,
3 melodicas, trumpet, guitar, percussion, piano, 2 toy pianos, and string bass.
This film has multiple excerpts. Select clip name from under play bar and then click play.
Get the Flash Player to see this player.
All the Langdon films at this site can be found in the AllDay Entertainment 4 DVD set: Lost and Found: The Harry Langdon Collection for which the Snark Ensemble provided nearly all the music.
— Maurice Saylor · Nov 22, 10:09 PM · #
Commenting is closed for this article.