Fighting Fluid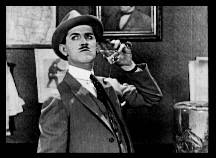 Starring: Charley Chase
Director: Leo McCarey
Writers: Unknown
Produced by Hal Roach
Release Date:1 February 1925 (USA)
Timing: 9:56
Genre: Comedy
Synopsis: Jimmy Jump is a sad sack, picked on by all and unable to approach the girl he loves. Fortunately, what spinach does for Popeye, some prohibition alcohol does for Jimmy and he takes control of his life.
Music by Maurice Saylor
Number of players: 4
Scoring: Eb clarinet, 2 Bb clarinets, bass clarinet, contra-alto clarinet,
2 melodicas, saw, pop gun, percussion, and piano.
Get the Flash Player to see this player.
Commenting is closed for this article.