Hansom Cabman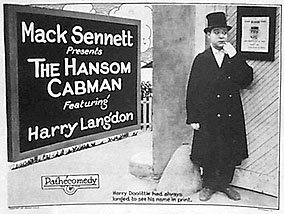 Starring: Harry Langdon
Director: Harry Edwards
Produced by Mack Sennett
Release Date: 12 October 1924
Timing: 19:25
Genre: Comedy
Synopsis: Harry wakes on the morning of his wedding to learn that he is already married – to a woman he doesn't know! Harry is hauled into jail for "wife beating" but easily escapes. The resulting chase to track down the fugitive leads to some hilarious scrapes – and scratches.
Music by Andrew Earle Simpson
Number of players: 4
Scoring: Bb clarinet, bass clarinet, soprano saxophone,
baritone saxophone, percussion, accordion, and piano.
This film has multiple excerpts. Select clip name from under play bar and then click play.
Get the Flash Player to see this player.
Commenting is closed for this article.