London After Midnight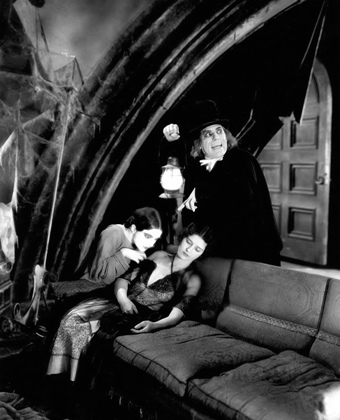 Starring: Lon Chaney
Directed by Tod Browning
Written by: Tod Browning (story), Waldemar Young (scenario)
Produced by Tod Browning
Release Date: 17 December 1927
Timing: 69:00
Genre: Horror
Synopsis: The abandoned home of a wealthy man who supposedly committed suicide five years earlier is taken over by ghoulish figures – could they be vampires? No, we don't really have this film – we just want to see if you're paying attention…
Music by Maurice Saylor
Number of players: 4
Scoring: piccolo, flute, sopranino recorder, oboe, English horn, 2 Bb clarinets, bass clarinet, contra-alto clarinet, soprano saxophone, tenor saxophone, 2 melodicas, banjo, percussion, accordion, piano, and toy piano.
Have you made music for "London After Midnight"? Could I have a DVD copy of it? How much it would cost me?
— Andrea Ippoliti · Nov 30, 05:59 PM · #
Commenting is closed for this article.