Lucky Stars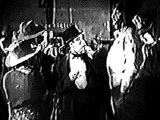 Starring: Harry Langdon
Director: Harry Edwards
Writers: Frank Capra and Arthur Ripley. Al Giebler, titles
Produced by Mack Sennett
Release Date: 16 August 1925
Timing: 21:24
Genre: Comedy
Synopsis: Harry, a naive young dreamer who dreams of becoming a doctor, falls under the spell of a quack medicine show man. Joining the show as the quack's assistant, Harry travels to Mexico, where he finds love and much more adventure than he bargained for…
Music by Andrew Earle Simpson
Number of players: 5
Scoring: violin, Eb clarinet, Bb clarinet, bass clarinet, contrabass clarinet, mini-Korg analog synthesizer (Theremin), percussion, piano, toy piano.
This film has multiple excerpts. Select clip name from under play bar and then click play.
Get the Flash Player to see this player.
Commenting is closed for this article.