One of the Family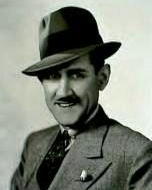 Starring: Charley Chase
Director: Scott Pembroke
Writers: Unknown
Produced by Hal Roach
Release Date: 27 January 1924 (USA)
Timing: 10:14
Genre: Comedy
Synopsis: Who would be suspicious of a rich woman's ad for a handsome chauffeur? Not Jimmy Jump, and he gets the job only to find out he's being paid to make a philandering husband jealous. He's rescued from this situation by the maid who takes him home to her folks – who are still in the midst of the Irish potato famine but anxious to please this potential new son-in-law.
Music by Maurice Saylor
Number of players: 4
Scoring: Bb clarinet, bass clarinet, alto saxophone, ocarina,
2 melodicas, slide whistle, percussion, piano, and Harmophone.
This film has multiple excerpts. Select clip name from under play bar and then click play.
Get the Flash Player to see this player.
Commenting is closed for this article.