Saturday Afternoon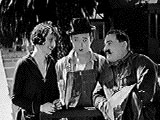 Starring: Harry Langdon
Director: Harry Edwards
Writers: Frank Capra and Arthur Ripley. Al Giebler, titles
Produced by Mack Sennett
Release Date: 31 January 1926
Timing: 27:12
Genre: Comedy
Synopsis: Harry leads an unadventurous life of servitude under his domineering wife until his friend Steve invites him on a Saturday adventure with two hot babes. The perils of flirtation for a single afternoon are enough to satisfy that itch for the rest of his life.
Music by Maurice Saylor
Number of players: 4
Scoring: piccolo, flute, oboe, English horn, 2 Bb clarinets, bass clarinet, contra-alto clarinet,
alto saxophone, tenor saxophone, 3 melodicas, slide whistle, percussion, piano, and 2 toy pianos.
This film has multiple excerpts. Select clip name from under play bar and then click play.
Get the Flash Player to see this player.
OMG! A rush of memories of Clever Gretel come flooding back. Love it!!
— Nick Seidenman · Jul 10, 05:49 PM · #
Commenting is closed for this article.