Sittin' Pretty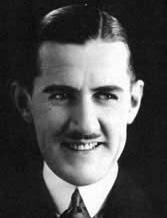 Starring: Charley Chase
Director: Leo McCarey
Writers: Unknown
Produced by Hal Roach
Release Date: 28 September 1924 (USA)
Timing: 10:30
Genre: Comedy
Synopsis: Jimmy Jump dons his girlfriend's father's police uniform in order to get his stolen car back. Soon the police recruit him – to capture an insane man in a house. Watch for the classic "mirror routine" nine years before the Marx Brothers did the same schtick in Duck Soup.
Music by Maurice Saylor
Number of players: 4
Scoring: Eb clarinet, Bb clarinet, 2 bass clarinets, contra-alto clarinet,
alto saxophone, tenor saxophone, melodica, trumpet, percussion, and piano.
Get the Flash Player to see this player.
Commenting is closed for this article.