There It Is!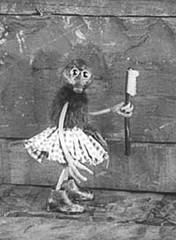 Starring: Charlie Bowers
Director: Harold L. Muller and Charlie Bowers (uncredited)
Writers: Charlie Bowers (uncredited) Harold L. Muller (uncredited)
Release Date: 1 January 1928 (USA)
Timing: 20:00
Genre: Comic Fantasy
Synopsis: In a matchbox, Scotland Yard detective Charley MacNeesha carries his constant companion MacGregor – who is a either a hairy insect or a buggy-looking mouse. The pair travels to New York to solve the case of the Fuzz-Faced Phantom who causes full-grown chickens to hatch from eggs, pots to rain from the ceiling, and pants to dance of their own volition in this surrealist comedy that anticipated Salvador Dalí and Luis Buñuel's An Andalusian Dog by more than a year. Wonderfully weird and childishly playful fun for all ages.
Music by Maurice Saylor
Number of players: 5
Scoring: picc, sopranino rec, 2 sop recorders, ocarini, oboe, English horn, Eb clarinet, Bb clarinet, 2 Bass Clarinets., contrabass clarinet, banjo, slide whistle, saw, glockenspiel, percussion, toy piano, 3 melodicas, accordion, and piano.
Commenting is closed for this article.