Reviews for "Becoming Charley Chase"...
Here's a collection of reviews of AllDay Entertainment's just released 4 DVD set "Becoming Charley Chase" for which we Snarks provided music for most of discs 2 and 3 and some of disc 1.
In a season that has already seen some major additions to the tiny, precious pool of silent films available on DVD, here's another remarkable contribution: "Becoming Charley Chase," a four-disc collection that traces the early career of one of the most creative and influential comedians of the era.
Born Charles Parrott in Baltimore in 1893, Chase was a tall, angular vaudevillian who entered the nascent Hollywood film industry in 1912, becoming a central figure in the transition from the broad, frantic physical comedy of Mack Sennett's Keystone studio (where he worked as a bit player, director and occasional star) to the more naturalistic, character-oriented comedy of the rival Hal Roach Studios (where he was hired as a director in 1920).
When Harold Lloyd, Roach's biggest star, left to pursue feature film production in 1923, Chase's good looks and easygoing manner made him a natural candidate to fill the void. Soon he was starring in a series of 10-minute one-reel shorts as Jimmy Jump, a well-dressed young man with a slightly fussy toothbrush mustache and many anxieties related to his shaky status at home and in the workplace. The series blossomed when Roach paired Chase with a barely experienced young director named Leo McCarey for the 1924 "Publicity Pays," one of the more than 40 shorts included in this overflowing anthology.
McCarey's gift for story construction and observational character comedy — which would peak in the '30s and '40s with masterpieces like "The Awful Truth" and "The Bells of St. Mary's" — made a perfect match with Chase's talent for building carefully linked chains of gags. "Becoming Charlie Chase" contains most of the surviving Chase-McCarey one-reelers, and they are astoundingly good: miniature models of narrative structure that move with grace, speed and logic. Far from the loose assemblies of pratfalls and collisions of the Keystone films, little gems like "Hello Baby!" and "Should Husbands Be Watched?" (both 1925) move through carefully modulated tempos and gags that vary in scale from tiny behavioral details to wild flights of surrealistic fancy.
Produced by David Kalat for release through VCI Entertainment, "Becoming Charley Chase" contains examples from across the range of Chase's early work, from bumptious Keystones like "He Wouldn't Stay Down" (1915) to the exquisite Will Rogers two-reeler "Jus' Passin' Through," a pastoral comedy touched by a gentle, unexpected lyricism that Chase directed in 1923.
Musical accompaniment, in both period and contemporary styles, is provided by the Snark Ensemble, Ben Model, the Redwine Jazz and the West End Jazz Band, and each short comes with optional commentary by a group of hard-core Chase fans and film historians, who seem able to recognize every supporting player and obscure Los Angeles location. All that's missing, apparently for budgetary reasons, is a program book, but plenty of information can be found on an affiliated Web site, charley-chase.com. (VCI Entertainment, $39.99, not rated)
*****************************************
'BECOMING

CHARLEY

CHASE'
By John Sinnott


DVDT

alk
The Collection:
Back in 2008 All Day Entertainment announced that they were going to release a set of Charley Chase shorts, Becoming Charley Chase. Unfortunately market conditions tanked and with the slowing of DVD sales, particularly silent film, the project was shelved. At the time I thought the project would never see the light of day, but happily I was wrong. All Day, their previous releases include the exemplary Lost and Found: The Harry Langdon Collection and American Slapstick Volume 1 and Volume 2, has teamed up with VCI to finally release this collection of silent comedy shorts. Covering over a decade in time, this set starts with Chase's early work at Keystone, progresses to his time at the Hal Roach Studio where he would blossom, and even contains a disc of comedies he directed.
Though he was never as big as Chaplin, Keaton, or Lloyd, Charles Parrott, better know by his stage name of Charlie Chase (though he always directed under his real name) was an amazing character. Not only was he an accomplished actor, he was also a gifted director, writer, and editor. A true Renaissance Man of the silent era.
He started out working for Al Christie's studio in 1912 and by 1915 moved up to Mack Sennett's outfit. There he honed his skills, both in front of and behind the camera. In 1920 he made the jump to the Hal Roach Studios and a year later he was running the place. As Director-General at Roach, he oversaw all of the productions with the sole exception of Harold Lloyd's films.
When Lloyd left Roach in 1923, another comic was needed on the lot and Parrott went in front of the camera once again. Directing himself for a time, Leo McCarey eventually took over the directing of his shorts and the two created some amazing and hilarious shorts before McCarey went on to cast a tall thin Roach actor (Stan Laurel) together with a large man who usually played the heavy (Oliver Hardy.) After McCarey's departure Chase took up directing himself once again.
So, how are the Chase shorts? Overall they're well thought out funny pieces that deserve more attention than they get today. Chase (especially in the later comedies) played an average, middle class man. That's quite different from Chaplin's tramp or Lloyd's young go-getter. While those two comedians were trying to survive or climb to the top, Chase was just trying to get through the day, something that a lot of us can relate to. His comedy was much more grounded in reality than many of his contemporaries, and that's one of the reason's they've aged so well.
A lot of Chase's short play out like situational comedies more than the slapstick affairs that were common in the day (especially at Sennett's studio.) One particularly amusing short, an early one-reeler, has ending up with some business cards that identify him as the bouncer at the "Bucket of Blood Café". Needless to say, even the toughest hoods that see the card shrink away from the innocuous Chase. The genius to the short is that rather than reveling in mayhem, as many comedies did at the time, the humor derives from Chase's lack of violence.
Having said that, these films are not all masterpieces. Sometimes Chase would take a potentially funny gag and not a lot would happen. In one short he goes to help a lady close the convertible top on her car, but instead of making it into a big production the way Keaton or Chaplin would have, he merely closes it. At other times the gags don't pay off as well as they should. There were a couple of shorts that left me cold (more the earlier ones) that didn't seem to be as tight and well knit as they should have been. These were very few however, but I kept on thinking back to them when wondering why Chase never made it to the big time.
Even more damning than a couple of weaker short though, is the fact that Chase never made the transition to feature films. He made one long subject that was released by Universal, the talking film Modern Love (1929) but it did not do well and he returned to two reel films. That's sad, because as this collection attests, he was very talented comic.
The DVD:
Audio:
These shorts are all accompanied by original scores preformed by Ben Model, The Redwine Jazz Band, The Snark Ensemble, and more. I was happy with all of the music as it fit the mood of the shorts and accented the action on screen. As anyone who has screened a budget label silent film that has public domain music just thrown on knows, the music can make a huge difference.
Video:
Okay, we need to talk about the video quality. These are unrestored prints of varying gauges, though if I'd have to guess I'd say most of them are from 16mm and I know at least one short comes from 9.5 mm film (the only surviving copy.) The prints are scratched, have poor contrast in general, lack the fine definition of 35mm film, and generally look below average even for silent movies. Here's the thing: This is the only place you can easily see these films. They are all watchable, but people used to restored classics like the Chaplin, Keaton, and Lloyd films will be disappointed. The problem is that it is just not economically feasible to restore these movies, especially the ones that need more work. If someone thought they could make a good profit by pouring money into top-notch restorations, it's obvious that they would do so, as countless other film restorations have shown. Given Charley Chase's low name recognition and the fact that these films are now in the public domain, it's doubtful that we'll ever seem many of these restored. Even if we do get a couple cleaned up will that be years or decades from now?
So what are we left with? Two options: either don't see these at all, or watch the best available unrestored prints that can be found. Personally I'd rather have the option of viewing these, even with less than pristine prints, than not having the chance at all. I'll gladly take the scratches and spots on 16 mm prints over nothing at all.
Extras:
Here's where All Day and VCI separate themselves from the various public domain companies that will release anything they can get a print for: this set is packed with extras. Every short includes an audio commentary by one or more of the following film scholars: David Kalat, Ben Model, Ken Gordon, Yair Solan, Robert Arkus, Steve Massa, Bruce Lawton, and Richard M. Roberts. (I've undoubtedly forgot someone… sorry if I have.) These commentaries are entertaining and very informative, talking about not only Chase and his style but also the supporting actors, the crew, and other aspects of the shorts. One of my favorite commentaries is for a film on the second disc where David Kalat reads off the credits and then admits that viewers could have figured that information out for themselves. Having sat through WAY too many commentary tracks where the star or director does nothing more than describe what's on the screen, I found Mr. Kalat's soft jab at that type of commentary hilarious.
In addition there is an overview of Chase's career, both in front of and behind the camera, The Parrot Chase. This 45-minute featurette is filled with interviews with Parrot/Chase scholars and clips from his movies. Though the interviews look like they were recorded a while ago with consumer grade equipment the content is quite interesting. A nice overview of the man and his times.
The Sounds of Silence is a 25-minute featurette that follows the Snark Ensemble as they score a silent film.
Finally there is also a 15-minute interview with Charley's daughter, June Chase, conducted in 1997. She reminisces about her father, her 'Uncle Jimmy', their summer vacations, etc. The talk is illustrated with stills of Charley and is well worth checking out.
Final Thoughts:
All Day and VCI have released another wonderful set of silent films. The bottom line is that these are funny, and well worth watching. Even if you've never heard of Charley Chase before, you should check these out. They run from amusing to hilarious and will provide hours of laughs. I do wish that these films looked better, but there is little economic incentive to restore these rather obscure silent films, even if they are classics. A very strong recommendation.
*****************************
Becoming Charley Chase (Comedy Compilation/1915 – 1925)
By Nicholas Sheffo
FulVue Drive-in
Picture: C Sound: C+ Extras: B Films: B
An innovator and groundbreaking filmmaker whose contribution to slapstick comedy is giant and forgotten, Charles Parrott is a big star of the silent era that wrote, directed and performed in films whose ideas and movements have been so duplicated, you have seen them whether you have seen his work or not. It is once again All Day Entertainment to the rescue with a terrific 4-DVD set called Becoming Charlie Chase.
We also see extracts of lost films and hope more is recovered somewhere. All Day has restored the films to the best of their ability and they look impressive, downright clean and clear at times where it will be some of the best silent film footage you have seen in a while. Before enjoying them with any commentary, we highly recommend you watch them as they are and guarantee you will be impressed. As slapstick has declined in the U.S. and the likes of Rowan Atkinson's Mr. Bean picked it up overseas, it is more important than ever to see this legacy in full swing and in its original form.
For film scholars and film fans, this is a must-see collection and an historic winner of a set for All Day, continuing to release some of the most important DVD sets on the market.
The 1.33 X 1 image has some choice moments, but there is even damage All Day and David Kalat cold not fix, so we have to rate accordingly, but we usually give a lower rating to unrestored footage, so it is in keeping with our ratings. The Dolby Digital 2.0 Stereo is from newly recorded material whose artists are identified on the above film list and the sound is just fine, plus is not the phony keyboard music that partly killed a silent film revival in the 1980s. Extras include expert commentaries with fans and scholars on all 40 shorts, archival interviews with Chase's daughter Juno, The Sounds Of Silence on scoring films, Evolution Of A Gag showing how Chase invented the famed Mirror Gag before The Marx Brothers made it immortal and The Parriott Chase that offers a 45-mintus retrospective on the man's career.
**************************
Becoming Charley Chase (2009)
By James L. Neibaur
Rogue Cinema
August 01, 2009
In his day, Charley Chase was one of the more popular comedians in films, his work extending from the early days of silent pictures through the golden age of 1930s sound comedy. He worked at Mack Sennett's Keystone, with Hal Roach productions, and for Jules White at Columbia. And while he did little in feature-length films, his many short comedies provide movie history with some of its funniest and cleverest comic moments from the teens right up to his untimely death in 1940.
Chase has long been championed by comedy film buffs for his talents as a comedian, writer, and director. AllDay Entertainment's new 4 DVD set BECOMING CHARLEY CHASE gives us a fascinating overview of the comedian's career from his Keystone roots, through many of his classics with Hal Roach, and several of examples of his fine directorial work. As with this same production company's wonderful Harry Langdon DVD set last year, this Chase set fills an enormous need for fans and students of screen comedy's rich history.
The first disc in this set looks at Chase at Keystone, during which he played a variety of small roles in many productions under his real name Charles Parrott. The fast-paced LOVE, LOOT, AND CRASH (1915(, for instance, is a good Keystone prototype, with blatant gestures, wild slapstick, and dazzling chase footage. Other Keystone productions found here, such as PEANUTS AND BULLETS, THE RENT JUMPERS, and A VERSATILE VILLAIN (all 1915), are equally amusing in the frenetic Keystone manner. Chase gets little opportunity to project much personality during this period of his career, but it was a good training ground for knockabout comedy. Two of the eight films on disc one are directed by Chase. The first, HE WOULDN'T STAY DOWN, features Keystone perennial Ford Sterling in the lead role. The second Chase-directed film on disc one, MARRIED TO ORDER (1920), is actually not a Keystone production, but a Reelcraft release that had been produced at the old King Bee studios two years earlier, and features a young Oliver Hardy starring opposite Chase.
Disc two celebrates the earlier Roach films in which Chase appears as a classic 1920s-era go-getter by the name of Jimmy Jump. Chase had joined Roach in 1921 as a director, and helmed several short comedies before returning to starring roles himself with the 1924 release AT FIRST SIGHT, which is the first of sixteen wonderful films on disc two of this collection. The Jimmy Jump period essentially presents Chase in what could be considered a typical Roaring 20s comic character, but with further exploration into what could be done with such a persona. For instance Chase goes against type and plays a shivering coward who is picked on by a gang of children in THE FRAIDY CAT (1924), one of the most outrageously funny films in this set. Creative gags abound in YOUNG OLDFIELD (1924), such as when Pharmacist Jimmy Jump, in order to drum up business, puts ice in front of a fan, and turns the fan on an outdoor crowd, giving them all the sniffles and forcing them to buy the cold medicine he has for sale. In another delightfully surreal image from this same film, an old man with a cane walks faster than the car in which Chase is riding, as he hurries to get the mortgage paid by noon. Chase does his own version of the mirror routine in SITTING PRETTY (1924), performing it with real life brother James Parrott, who plays a supporting role. The director of SITTING PRETTY, Leo McCarey, would investigate this same routine with The Marx Brothers when he would later helm their 1933 classic DUCK SOUP.
The third disc shows Chase evolving from the Jimmy Jump character into the one he would solidly play for the remainder of his career. Well meaning, a bit fluttery, and prone to embarrassment, Charley would still find clever ways to emerge victorious by each film's fade-out. The ten films on this disc are perhaps the best on the entire set, showing Chase as a fully established comedian, enjoying a real rapport with his director Leo McCarey, and willing to explore some innovative possibilities for comedy. Initially still referred to as Jimmy Jump, Chase is wildly inventive in BIG RED RIDING HOOD (1925) as a voracious reader who initially dreams himself into the stories, and ends up so interested in a book he can not afford to purchase, he rides is bicycle alongside a speeding car to read the book recently purchased by the car's driver. Chase was still called Jimmy Jump once his series went from one to two reels per short, doubling their length and allowing for greater narrative depth. BAD BOY (1925) is a very funny effort in which mama's boy Jimmy Jump is spurred on by his father to be more of a tough guy. Dressed as a stereotypical Irish hooligan, Jimmy successfully intimidates several at a dance hall until his ruse is discovered. LOOKING FOR SALLY (1925) features a mistaken-identity theme, something Chase would investigate frequently in subsequent films.
On disc four, the set concludes with seven films Chase directed but did not appear in, featuring some of his initial directorial efforts for Roach. These films usually feature comedian Snub Pollard, or Chase's brother James Parrott, who directed under his own name, but acted as Paul Parrott. Snub and Paul appear together as an ersatz comedy team in this disc's best effort, DEAR OLD PAL, which happens to be the last film Chase directed before embarking on his own starring series. Paul and Snub play pals who enjoy a competitive rivalry when playing horse shoes and other such games, usually escalating to a fist fight, but ending with the two making up. Their rivalry for a woman becomes heated when each tries to top the other with gifts, skills, and abilities. Chase constructs the film beautifully, with outrageous gags in each scene. During a fight between the two rivals, Paul repeatedly swings and misses Snub, hitting each of the onlookers one by one. During a three legged race, the two rivals venture off to chase down a man trying to accost the object of their affection, borrowing a farmer's wheelbarrow to increase their speed, but not thinking to untie their legs from each other until they've already reached the girl's house.
While there is much slapstick in the comedies presented in this set, Chase would eventually emerge as a comedian who relied far more heavily on situations than isolated gags. He was, in essence, the first sitcom star, and his work is an obvious influence on such TV performers as Dick Van Dyke. This four disc set presents Chase's development to that point, and allows us to experience many aspects of this talented comedian. Its entertainment value is matched by its historical signficance in presenting the development of one of screen comedy's most interesting and talented performers.
The music on this disc is wonderfully performed by the talented Ben Model, Snark Ensemble, West End Jazz Band, and Ben Redwine. Special features include an insightful documentary, an interview with Chase's daughter June, and a look at the method of scoring silent comedies for DVD. Each film on this set has an option to be viewed with a commentary track supplied by any number of top level film historians who understand and appreciate these comedies at a level that is matched by only a select few. Among the commentators is Yair Solan, whose Charley Chase website, http://www.charley-chase.com, is an absolute must.
The quality of the films vary, depending on what sort of pre-print material was available for each. Some are beautiful, others a bit washed out, but all are perfectly watchable for those who understand how fortunate we are that 85 year old movies exist at all. In fact two of the films in this set, SEEING NELLIE HOME (1924) and ACCIDENTAL ACCIDENTS (1924) do not survive in complete form. The surviving footage is presented here, offering us an interesting look at two films that were long lost to the ravages of time. The makers of this video were careful to find the best footage possible from various institutions and private collectors throughout the world, and have done a superb job. It should be noted that none of the films on this set can be found either of KINO's two volumes of Charley Chase silent comedies.
BECOMING CHARLEY CHASE is certainly among the most important historical collections of comedy films to be released on DVD. It is most highly recommended to anyone with an interest in motion picture comedy's fascinating history.
**************************
Jazz Age comedy star Charley Chase (1893-1940)
Prolific writer-director-comedian Charley Chase – some of you may know him from his role as "the practical joker" in Laurel and Hardy's Sons Of The Desert (1933) – just got some more of his due recognition earlier today. All Day Entertainment released Becoming Charley Chase, a 4-DVD box set spanning his early career in silent films.
While it's a good bet that many of this blog's readers know who Charley Chase (A.K.A. Charles Parrott) was and have seen some of his films, as well the classic two-reelers he directed at Columbia Pictures for The Three Stooges, even fans may not be aware of his importance in film and comedy history.
In 1924-1925, Chase, along with fellow innovator Harry Langdon, essentially changed film history; they brought a more subtle, less frantic timing, acting and overall pacing to both slapstick and that bastard child of entertainment, the comedy short subject. Chase in particular added more sophisticated storylines to classic sight gag humor.
Prior to that, sophisticated comedy and slapstick were strictly separate genres, especially in short films. Sophisticated comedy, exemplified by the popular Mr. And Mrs. Sidney Drew, primarily stuck to pratfall-free marital farces. Slapstick – epitomized by the "louder, faster, shorter" school of Mack Sennett, Henry Lehrman and Larry Semon, the king of sight gag spectacle – was a rip-roaring characterization-free zone where guys with gargantuan mustaches ran around frantically, threw pies, destroyed cars, water towers crashed, fat guys got doused with gallons of goo, little guys scampered on skyscrapers, lions chased terrified actors, stuff "blowed up real good". . . and stuntmen worked hard, very hard.
Charley Chase mastered all of the above: directed marital farces starring Mr. And Mrs. Carter DeHaven, slapstick for Sennett, Hal Roach (the Snub Pollard series) and Chaplin imitator Billy West, as well as early solo works by Lloyd Hamilton, whose 1920's and 1930's comedies feature subtle acting, deliberate timing and an eternally world-weary sad sack characterization. He also was among the creative team that developed the Our Gang comedy series for Hal Roach in 1921-1922. By merging elements of the two genres, as well as fostering a more character-driven approach with Our Gang, Chase changed the very nature of film humor, paving the way for both Laurel & Hardy and the screwball comedy genre that became popular just a few years later.
Although he has been hailed as the originator of situation comedy and aptly compared to Dick Van Dyke (especially Dick's 1960-1965 TV series, created by Carl Reiner), Charley Chase also points forward to quite a few comedians both in and outside of that genre who became prominent long after his death in 1940. The clever invention of his ideas recalls Ernie Kovacs. The contrast between an everyman and a host of improbable, bizarre and wacky things that can happen brings to mind an equally funny guy whose style is very different from Chase: the great Bob Newhart, master of standup comedy and the sitcom. And his mannerisms – especially in such still hilarious films as Mighty Like A Moose (1926) – often make me think of The Goons and The Pythons (watch the Ministry Of Silly Walks sketch and then reference Charley's inebriated gait in His Wooden Wedding).
The 4-DVD set traces his artistic development and features a selection of short and sweet one-reel short subjects he starred in and co-directed with Leo McCarey. It includes over 40 silent shorts from Chase's early years in movies, both as actor and director, and chronologically moves from his first directorial efforts for Mack Sennett, later films he made as a freelancing director (including one in which he co-stars with the always fabulous Oliver "Babe" Hardy – before either worked at the Hal Roach Studio) and Chase's re-invention as starring performer.
I extend big time thanks to David Kalat, Robert Blair at VCI Entertainment and all the film historians – Ben Model, Robert Arkus, Richard Roberts, Paul Gierucki, Rob Farr, Yair Solan, Bruce Lawton, Dave Stevenson – who contributed to this. If you love classic comedy and film history, buy it.
http://psychotronicpaul.blogspot.com/2009/07/new-dvd-set-by-silent-film-comedy.html
**************************
Charley Chase's silent comedies jump back to life on

DVD


By Jordan Young
LA/OC Theatre Examiner
September 6, 2009
To my mind there are two kinds of people—those who love Charley Chase, and those who never heard of him. All Day Entertainment's Becoming Charley Chase, recently released by VCI Entertainment, is a 4-DVD box set affectionately put together by people who are clearly in the first category; it's not the work of a soulless corporation trying to make a fast buck, like so many video releases these days.
This collection should do much to bolster the reputation of this most unjustly underrated comedian of the 1920s and '30s, perhaps best remembered now for an uproarious cameo in Laurel and Hardy's Sons of the Desert. One disc is devoted to Chase's embryonic 1915 work for Mack Sennett; two discs are comprised of 1924-1925 shorts made at Hal Roach Studios; and a fourth samples his efforts directing other comics, including his brother James Parrott (who himself directed many of Charley's comedies, as well of some of Laurel and Hardy's best), Will Rogers and Snub Pollard. Our Gang, whose earliest comedies Chase supervised as Director General at Roach, are seen as guest stars in The Fraidy Cat.
Even the Chase aficionado who has all or most of these 40-odd comedy shorts in 8mm, 16mm, Laserdisc or VHS will find the box hard to resist. There are new scores for all titles, with some highly entertaining and imaginative work by the Snark Ensemble, Ben Model, the Redwine Jazz Band, and the West End Jazz Band. There are also optional audio commentaries on all films by a gaggle of Chase historians and film scholars; a 45-minute documentary, The Parrott Chase; and an archival interview with Chase's daughter June.
The quality of the films is erratic but not for lack of effort; producer David Kalat notes how he acquired six prints of one especially poor-looking title, and choose the best of the lot. We're fortunate so many of Chase's silent shorts exist, as the tantalizing fragments of some lost ones remind us. The box's missing booklet, a victim of the recession, can be downloaded here. A DVD set of his '30s Columbia shorts is in the works; meanwhile, for more on Charley visit the definitive website.
**********************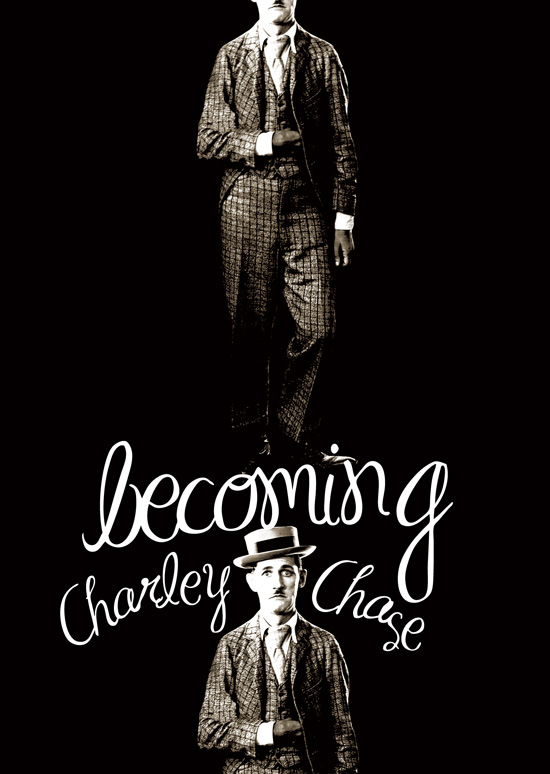 Cover to Becoming Charley Chase a 4-

DVD

set from Allday Entertainment.
Commenting is closed for this article.